SERBIAN WINE PRODUCERS' PERFORMANCE EVALUATION: A NETNOGRAPHIC BASELINE STUDY OF WINE INDUSTRY IN SERBIA
Keywords:
Wine production, Marketing, Netnography, Serbian wineries, agriculture
Abstract
The paper presents the wine production performance in the Republic of Serbia. The research adopts quantitative and qualitative methods, using a relatively novel method, netnography, which involves the observation and analysis of specific social groups or occurrences in the digital world using search engines as the primary source of data gathering. Key factors identified in the study are land, labor, capital and factors supply and demand. Goal of this research is, through the analysis of before mentioned factors, to evaluate wine production of Serbian wine producers. The paper also examines current conditions and possibilities of grape growing and wine making in the Republic of Serbia.
Downloads
Download data is not yet available.
References
Camillo, A., Kim, W. G. (2021). An Assessment of the Competitive Position of the Emergent Uruguayan Wine Industry: A Preliminary Netnographic Baseline Study. Beverages, 26 (3). doi: 10.3390/beverages7020026
Jakšić, D., Ivanšević, D., Đokić, V., Tepavac, B. M. (2019). Vinski atlas. Republički zavod za statistiku, [in English: Wine Atlas, Statistical Office of the Republic of Serbia, Belgrade]
Jakšić, D., Bradić, I., Beader, M., Ristić, M., Popović, D., Mošić, I., Dodok, I. (2019). Vinogradarstvo i vinarstvo Srbije. Centar za vinogradarstvo i vinarstvo Srbije, Beograd [in English: Viticulture and Oenology in Serbia, Centre for viticulture and oenology of Serbia, Belgrade]
Kozinets, R. V. (2002). The feld behind the screen: Using netnography for marketing research in online communities. Journal of marketing research, 39 (1), 61-72. doi: 10.1509/jmkr.39.1.61.18935
Kozinets, R. V., Dolbec P.Y., Earley A. (2014). A Netnographic analysis: Understanding culture through social media data. Sage Handbook of Qualitative Data Analysis, London, UK, 262- 275
Vlahović, B., Puškarić, A., Užar, D. (2017). Savremeni trendovi na tržištu vina. Poljoprivredni fakultet, Novi Sad [in English: Modern trends on the wine market, Faculty of Agriculture, Novi Sad]
Vlahović, B., Škatarić, G., Veličković, S. (2019). Tržište vina u zemljama CEFTA grupacije. Agroekonomika, 46 (74), Novi Sad [in English: Wine markets in CEFTA countries, Agroekonomika, 46 (74), Novi Sad]
Program razvoja vinarstva i vinogradarstva Republike Srbije za period 2021.- 2031. godine. (2020). Službeni glasnik Republike Srbije, 154/20, Beograd [in English: Development program for 2021-2031 for winemaking and viticulture in the Republic of Serbia, Official Gazette of the Republic of Serbia, Belgrade] Retrieved from http://www.minpolj.gov.rs/download/program-razvoja-vinarstvai-vinogradarstva-republike-srbije-za-period-2021-2031-godine (July 10, 2021)
Statistical Office of the Republic of Serbia, Retrieved from https://www.stat.gov.rs (July 18, 2021)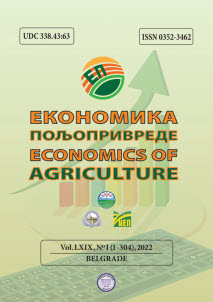 Downloads
How to Cite
Valčić, U., & Zarić, V. (2022). SERBIAN WINE PRODUCERS' PERFORMANCE EVALUATION: A NETNOGRAPHIC BASELINE STUDY OF WINE INDUSTRY IN SERBIA . Economics of Agriculture, 69(1), 211–225. https://doi.org/10.5937/ekoPolj2201211V