MARKETING CONCEPT IN TERMS OF AGRICULTURAL ENTERPRISES DEVELOPMENT IN TRANSITIONAL COUNTRIES
Keywords:
agricultural enterprise, restructuring processes, marketing orientation.
Abstract
A subject of the research in this paper are agricultural enterprises in transitional countries, their business orientation, as well as restructuring processes, aiming to adjust to new market and economic trends. The goal of the research is to analyse business changes in agricultural enterprises during the transitional period, as well as recognizing current characteristics and role of agricultural enterprises in agrarian reproduction process. Privatization of public combines and food industry has disturbed previously set connections in value chain of agro-food products, while facing the economy globalization and harsh competition in the process of trade liberalization has led to new concepts and postulates in these enterprises functioning. The agricultural enterprises should develop new concept of management and marketing, in order to develop a profitable business strategy and to provide growth of production and sale, based on new market and economic circumstances.
Downloads
Download data is not yet available.
References
1. Cvijanović, D., Bekrić, A. (1994): Neke karakteristike menadžmenta u agroindustrijskim preduzećima Srbije, Ekonomika poljoprivrede, IEP Beograd, Vol. 45, br. 3-4, str. 69-77.
2. Cvijanović, D. (1996): Dimenzija marketing koncepta preduzeća u tranzitnom periodu, Ekonomika Poljoprivrede, IEP Beograd, Vol. 43, br. 2, str. 111-118.
3. Hanić, H. (2008): Upravljane marketingom, Beogradska Bankarska Akademija, Fakultet za bankarstvo, osiguranje i fnansije, Beograd.
4. Novković, N., Šomođi, Š. (2001): Organizacija u poljoprivredi, Poljoprivredni fakultet, Novi Sad.
5. Paraušić, V., Cvijanović, D. (2006):Međunarodna marketing strategija kao pretpostavka konkurentnosti agrosubjekata na inostranom tržištu, Ekonomika, Ekonomski fakultet Niš, Vol. LII, br. 1-2, I-IV 2005, str. 93-103.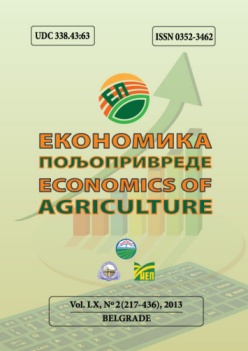 Downloads
How to Cite
Cvijanović, D., Trandaflović, S., & Imamović, N. (2013). MARKETING CONCEPT IN TERMS OF AGRICULTURAL ENTERPRISES DEVELOPMENT IN TRANSITIONAL COUNTRIES. Economics of Agriculture, 60(1), 113–122. Retrieved from https://www.ea.bg.ac.rs/index.php/EA/article/view/513